"Hot off the Press, Finneus Egan and the Early Bird Real Estate Team have joined Compass Hollywood."
Table of Contents
COMPASS GETS A NEW REAL ESTATE TEAM
It's official, the Compass onboarding process has been completed and Finneus Egan and his real estate team have joined the Hollywood Compass location at 6430 W Sunset Blvd., 6th Floor, Los Angeles, California 90028
While joining the Compass family, Finneus Egan decided to shoot a video on his new DJI Osmo steadicam and Mavic Pro Drone. He shot the On-Boarding process to create a video as a resource for other agents interested in learning more about the Compass Real Estate company. The video turned out to be very helpful in understanding the vast amount of resources one gets when deciding to join forces with Compass, so Egan decided to share it for all to use.
As an office sign in the Hollywood Compass office says,
"Lights. Camera. Compass!"
One of the reasons Finneus Egan and his Early Bird Real Estate colleague, Conor Sutton, accepted an offer to join Compass and went through the Compass Onboarding Process, was to learn the Compass Advantage and specifically more about how all the different In-House support departments can streamline and serve the Early Bird Real Estate business.

"From the second we got off the elevator to the one-on-one time we got to spend with CEO Robert Reffkin and all throughout the training, it's easy to see why Compass has become the #1 independent brokerage in the country. Professionalism, enthusiasm, and best in class resources and technology will help Realtors like us thrive at Compass," Egan said.
AGENT SUCCESS MANAGER
The first step in the onboarding/ introduction to the Compass process, as seen in the video, was meeting Ellesse Wong, our Agent Success Manager. Ellesse was assigned to us and welcomed us to our new Compass Hollywood office. What is an Agent Success Manager? That is a tough one to explain without filling up a lot of this vlog article.

Wong helped us sum it up: "The simple answer is they help each agent leverage all the Compass services and programs that will help make the seller experience the best it possibly can be. The ASM works hand-in-hand with marketing, product experts, IT, finance and compliance in Compass and makes sure the agent is well taken care of and doing what they love best – helping people find their place in this world."

***Finally finishing this article up now a few months later into joining Compass, we have to say that Ellesse has been an amazing part of our team and made the transition to Compass and new technology seamless. With Ellesse and the rest of the Hollywood ASM team, including Mallory Sorkin, whenever we have a problem or an issue, they are able to guide us in the right direction or just handle problems for us directly — and quickly! They have indeed streamlined our work so that we can spend more time with our clients.***

The only way to describe Ellesse and the ASM role within Compass is how she described herself the first day we put her on camera: "I'm like your Compass at Compass."
THE COMPASS MARKETING & DESIGN TEAM
Next, Ellesse introduced us to our Creative Marketing Team. From social media to print brochures, our dedicated team of marketing advisors and designers create the materials to strategically show our brand and listings in the best light.

Further, our Hollywood marketing team discussed and explored our Early Bird brand and our future goals. As you may know, Early Bird Real Estate prides itself on capturing the online digital space with its drone shots, luxury home video tours (#EarlyBirdLuxuryHomeTours), Google SEO and social media marketing, and creative content for their Youtube Channel. The marketing team showed us that with the ease of using the Compass tools we could proliferate our goals. We are now believers that these proven techniques will help advance our share of the Los Angeles digital real estate space.
Says Conor Sutton: "The Hollywood Marketing team, including Lee Pham and Ryan Bouchard, knows their stuff and even helped us identify relevant SEO advertising platforms and strategies to get our video content and various messages out for consumer consummation."
From listing brochures to social and email marketing, they're our dedicated go-tos within the 150+ strong Compass marketing team. The Compass Marketing team makes creating the materials needed to best list and sell homes an absolute snap. The ease of use with the plug and play of these materials is unprecedented and if you have any questions, the marketing team is there to help! And a shout out goes to another member of this vast Hollywood team, Haley Vorzimer with her weekly email marketing updates that guide agents on trends and shareable content they can use for their digital newsletters and social media posts.
COMPASS CONCIERGE
Right from the bat, we learned more about the Compass Concierge program, a true competitive advantage Compass offers over other brokerages and an amazing way to better serve our clients. Simply, Compass Concierge increases the market value of our clients' properties without our clients having to spend a dime upfront. The Program Covers The Costs!
Exclusive to Compass, the Concierge program fronts the cost of services that can increase the value of your seller's home. From staging, to painting, to cosmetic renovations, there will be no payments collected from the seller until the home sells. No upfront costs, no interest and no hidden fees – ever.
We were so excited about the program, we immediately made a video about it to explain it to homeowners who are considering selling:
As the CEO of Compass, Robert Reffkin explained to us recently that the majority of the time when sellers' use Compass Concierge they can expect:

"More Money. Less Time on Market. No Hassles."

Reffkin went on to explain that it is akin to giving the ability for a seller to act in their best interest as a sort of real estate investor in their own property. Except instead of the investor getting the profit after fixing up the property, that profit goes directly in the seller's pockets!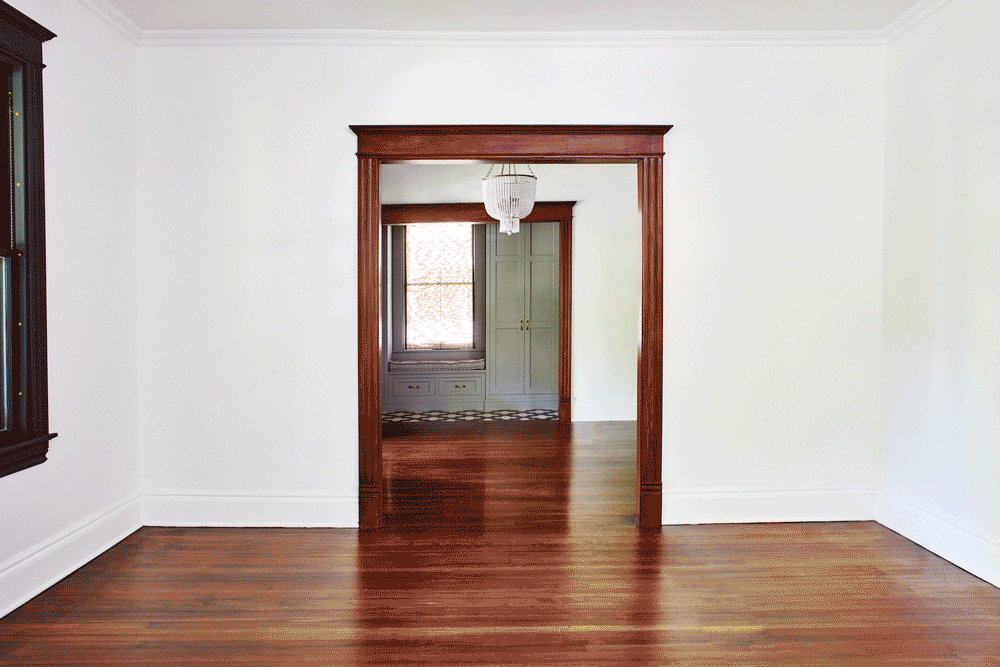 Before and after staging by Compass
IT @ COMPASS
The team at Early Bird Real Estate is a big believer in technology and how it will shape the future of the real estate industry. We embrace it full-heartedly. The technology and IT at Compass was a major reason our team decided to come aboard.

Says Sutton: "Data shows that Millennials will account for 50% of the housing market across the nation in 2020. If we cannot reach them on their smartphones, we will probably not reach them at all. Digital advertising on mobile devices is the new door knocking for this generation. Targeting and retargeting. Impressions and clicks. This is the same thing as pressing a doorbell. If you don't understand what that means, you're already losing the race. You just don't know it yet. Realtors and brokerages alike will fall victim to these rapidly changing business protocols if they can't keep up with technology. This is the future and it's already here."

That said, when looking at other brokerages and their offers out to us whilst considering joining Compass, we spoke with our connections to other agents and established teams. We found that many agents are afraid of changes and are used to their routine. Some expressed to us that they were too frightened to try learning something new. From the feedback we gathered, there were a lot of agents simply afraid they might not get the support to understand all the new technology Compass has to offer.

On day number two, we were introduced to David Olver, our on-site tech and self-described "IT-nerd" who is conveniently located IN the Hollywood Compass office. If we had any doubts about support, Olver immediately put our minds to ease.

"IT as a team provides multi-tier support for agents and staff at Compass to ensure technology, both hardware and software, works as expected. From Tier one, available seven days a week and just a phone call or email away, to Tier Two (myself), onsite help, to System-level support for the bigger problems. We keep the wheels greased so your technology works for you, instead of against you," Olver explained.

We were blown away to have such support. LOCATED IN OUR OFFICE. In some past situations, we might have an IT person visit our office once a week, but only during certain scheduled hours or have to call an 800 number that could take hours. I've even heard of some Brokerages that don't have an IT department at all!
COMPASS PRODUCT EXPERTS
OK, well IT support is one thing, but what about learning all the expansive programs and new platforms that Compass gives its agents? That's where the Compass Product Experts come into play!
I asked Dani Medina to explain, she is one of the Product Experts on staff in the Compass Hollywood office there to assist our team.

Says Medina: "As a Product Expert, we are in charge of the learning path, engagement, and an overall understanding of the Compass platform. From the first week of a new Agent joining Compass, we make ourselves known by providing an overview class showcasing popular tools that agents recommend learning first, physical collateral to show off our Marketing feature, and building the "why" behind these tools. Showcasing how they can truly help build their business, generate leads, save time, and make more money!

Once the initial training is complete, we begin to seek out more information involving the type of business they do (more buy or sell-side), then begin to craft a learning plan to begin their integration into the tools. This is a learning process that has no real "finish line." Like anything else in life, things change, our platform evolves and grows, so it's important to enter into this experience knowing that there's always going to be something new to learn and that Mark and I are here to help!"

Mark Lee, seen featured in our Compass Onboarding video, explained to us that once we started to learn more about these tools and began immersing ourselves, the Product Expert team would seek out feedback, success stories or to learn what's important to us. The Product Team wants to hear!

"Feedback is the culture of Compass and it's really how we grow, and that is a culture that we are always looking to build upon," said Lee.

Still confused and having a hard time with the new technology?

In addition to working with agents or teams on an individual level, the Product experts also host "community-based" workshops that are open to the entire office to learn about a new tool, a workflow, or even a refresher course! The Compass staff is always looking to innovate and find new ways to #collaboratewithoutego and work with other departments to provide fresh content and ideas, as well as engaging ways to present the material that makes the agent(s) want to participate and invest in learning these tools.

If you're not always in an office or like to work remotely, not to worry, they have a solution for that too! They also offer Virtual Training! This can be hosted by a variety of different people from across the country to offer fresh perspective and inspiration for using certain tools, ways to pitch Compass programs, how to market yourself effectively, and building a follow-up strategy to gain more referral business!

"We are always looking for new ways to help build your business and make our tools as relevant as possible for YOU, our Agents," Medina told us.
COMPASS TRANSACTION COORDINATORS
Let's talk about Transaction Coordinators or "TCs" for a minute. As an agent/broker, I've had some very good ones and some extremely bad ones. Upon joining Compass, I was fortunate enough to open escrow on a couple of deals and get Christian Casados as our Compass TC. As Transaction Coordinator, he not only ensured that all deadlines are met and that all paperwork is completed…he prides himself on going above and beyond.

Says Casados: "Compass is committed to providing world-class products and services to all Real Estate Agents who have joined the Compass Family. One of the exceptional services that's provided is a Full-Service Transaction Coordinator who will work with an Agent and their Client's in obtaining appropriate disclosures throughout the transaction and to ensure their file is compliant by the closing of escrow. Compass also offers a Compliance Service, where the Transaction Team will review all disclosures that are uploaded directly by the Agent and will then provide the Agent with an appropriate checklist requesting required documents that are needed to ensure their file is compliant."

Further, it was recently announced that Compass will be utilizing Skyslope, a user-friendly Transaction Management system. Another way Compass is making things easier for us, the agent.
COMPASS STRATEGIC GROWTH
But how do they do it? How does Compass create such an amazing and thriving culture? How are they growing this fast and recruiting such exceptional agents and teams?

For me, I have to give thanks to Leanne Rogan, the Director of Strategic Growth. In her recruitment of me to Compass, she explained that Compass was selective with whom they make offers to join forces with them. One of the many things she is looking for in agents and/or teams is not only if they are successful with a forward trajectory, but are they people who fit the culture of Compass and the offices that they join. She believes we are in an industry that is quickly changing and wants to create harmonious culture carriers at Compass who work, learn, and thrive together.

After some discussions and tours of various offices in Los Angeles, it was quickly evident that Early Bird Real Estate would fit best in the Compass Hollywood office!

We love this office and all the agents in it. As shown in this video, on Day 2 we were invited to Patrick Moya's Co-Lab where he interviewed the RSR Real Estate Team. To be clear, this is Patrick (an agent) taking intuitive to do monthly interviews of successful agents and teams who are open and willing to share their practices and methods of success. Talk about having great influencers in your own backyard!

Also, it wasn't long until it dawned on us, it's Compass HOLLYWOOD. HOLLYWOOD, BABY! There is only one Hollywood and everyone in the world has heard of it. We can even see the Hollywood sign clear as day from our sixth-floor office windows if we ever need a reminder. Make an appointment with us and I will show you. Ha!

Hannah Bender, the Hollywood Strategic Growth Manager, explained strategic growth to us like this: "My team manages growth and expansion across Southern California, and I have the pleasure of exploring partnership opportunities in East LA and along the Central Coast. I love what I do — I get to build relationships with agents who are true business owners, and share with them the value Compass can provide. And in doing so, I'm helping shape the growth of an incredible company!"
EXPERIENCED & CONFIDENT LEADERSHIP
Bonus! The Compass Hollywood office has two sales managers. The combined leadership of both Parker Beatty and Karen Greensweig cannot be underestimated. Experience matters and these two are well seasoned in the real estate industry. It seems they have seen it all and are always available to share their wisdom. Both managers host regular training classes for Realtor's continued education. They know how to place you in a thought-provoking real-life scenario while providing a healthy learning environment. Realtors are encouraged to take chances in class and not be afraid of failure within the group environment. After all, lessons learned in class only make you stronger in the field.

Also, Karen is a wizard with any questions pertaining to contracts. She even hosts a class where you can try to stump her with questions! And don't tell Parker we said this…he is not only knowledgeable in his office meetings, but he is pretty funny as well.
INSPIRATIONAL LEADER & CEO ROBERT REFFKIN
Not only are we secure in our Hollywood staff/team and office managers, but we also got to meet our inspirational leader, CEO Robert Reffkin at our Hollywood Compass office. With over 14,000 agents nationwide, Robert still found the time to greet Finneus and Conor and welcome them to the Compass family.

Scale matters, but so does the personal touch.

(You can see how that meeting unfolded by watching our Compass onboarding video above. You can also see how that almost didn't "happen" in the outtakes coming soon! Ha!).

One of Early Bird Real Estate's calling cards is our positive energy. That energy was returned enthusiastically by Robert Reffkin. A go-getter himself, Robert graduated from Columbia in 2 years, worked for the White House at 25, worked non-profits and started charter schools and has been named a Fortune 40 under 40.

Reffkin gets passionate when discussing real estate agents and the future of our industry, after all, he points out that he was raised by his single mother whose profession was as a Realtor. He saw her success in real estate as one of the few industries a hard-working woman could make a name for herself and truly get ahead. Watching her success seems to have made a huge difference in defining the path the CEO pursued and the many obstacles he has overcome.

Because of his Mom, who is currently working as a Compass agent, Reffkin says: "I'm emotionally driven to make real estate agents successful."

His vision for a brokerage that leverages the best technology to make buying and selling real estate seamless for the best agents nationwide has drawn millions in venture capital and leading realtors nationwide. He also founded Compass Cares and the charity America Needs You, which supports underprivileged students who are the first to go to college in their family.
Robert developed the Compass 8 principles that have helped guide the growth of the company.
The Compass 8 principles:


Dream big.


Move fast.


Learn from reality.


Be solutions-driven.


Obsess about opportunity.


Collaborate without ego.


Maximize your strengths.


Bounce back with passion.


These principles have guided Compass to become the #1 independent brokerage and #3 overall brokerage in the country.
Says Reffkin: "I think the future of the real estate industry is in the ideas of the agents." He is here to support agents' visions and to help us as agents provide the best service possible for our clients.
Compass Eight Principles
EVEN MORE ABOUT COMPASS
There is so much more to discuss, from Equity options Compass offers its agents to additional incredible Programs benefiting the communities we serve like Compass Cares and the newly launched Compass Bridge Loan Program.
(In case you are wondering, yes! we are working on videos explaining all of these programs as well).
They Will Be Coming Soon to Our Early Bird Real Estate Youtube Channel.
Please, click here to subscribe: https://www.youtube.com/c/EarlyBirdRealEstateFinneusEgan
(On our channel we feature luxury home tours, commentary on real estate and real estate trends, community videos, amazing drone work, have video client reviews and have even created a comedy series about bad and/or difficult real estate agents called, "Does Your Agent Get It?").
COMPASS, DOUBLE THUMBS UP CONCLUSION
Finneus Egan concludes: "After a short time, we become true believers in Compass. We feel like we have become part of an amazing family. We now have the resources and support system to better ourselves for our client's benefit and a company helping us in a decisive way to make a positive difference and give back in the communities we serve."

Our new Compass offices are in the heart of Hollywood, right next to the iconic ArcLight Cinemas in the CNN building. We have killer 360 views and a great snack bar! Come by and let's discuss real estate or how Compass can help YOU,

AGAIN, THE COMPASS HOLLYWOOD office is located at:
Compass
6430 W Sunset Blvd., 6th Floor
Los Angeles, CA 90028
INTERESTED IN JOINING COMPASS?
Thanks for Watching and Reading this Vlog! Please leave a comment and tell us what you think. If you are an established agent or broker that is curious about learning more, I might be able to help!
Music Credits:
endless summer by Del. https://soundcloud.com/del-sound
Creative Commons — Attribution-ShareAlike 3.0 Unported — CC BY-SA 3.0
Free Download / Stream: https://bit.ly/_endless-summer
Music promoted by Audio Library https://youtu.be/3SZ_elswoA0